The Cameron Hallihan Story – A Chiari Warrior's Journey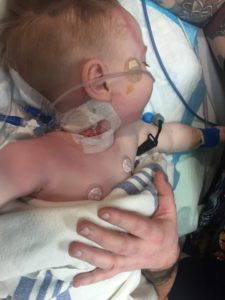 My son's story started right from the moment he was born. I knew as soon as he tried to breastfeed that something was wrong. At that time, I didn't know exactly what I was getting into. I figured he was aspirating like my first child. I took my brand-new baby home and tried to feed him for four weeks. Breast, bottle, syringe, you name it, we tried it. At four weeks he couldn't keep weight on or eat. We spent a few hospital admissions trying to figure out the problem with many, many extensive tests. They inserted an NG tube to feed him and we thought wow what a relief! They assured me he just had GERD and it would get better with age. Let me tell you nothing got better.
When he was seven months old, he began vomiting anything and everything. My baby cried for the first eight months of his life and screamed blood-curdling screams while hooked to the feeding pump. I thought it was reflux but looking back I should have known better. Tylenol would help. (How would Tylenol help reflux?)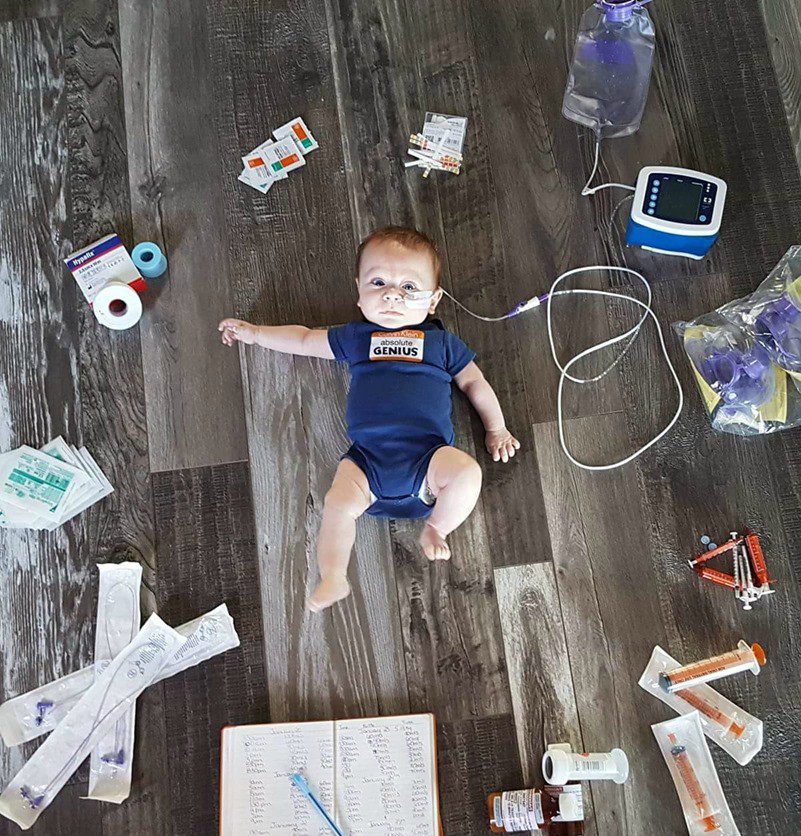 They continued to look because I was a squeaky wheel making weekly visits to the children's emergency department, telling anyone who would listen that something was wrong with our baby. Our son's doctors thought we were crazy and that we, "could not cope as parents." We were admitted to the hospital for a few tests and in walks a lady introducing herself as a physiatrist. I was thrown off but wasn't surprised. She talked to me for an hour. I remember asking her if she was there because they think I'm crazy. "They think I have Munchausen's, don't they?" I asked. "Maybe," she replied. At the end of the conversation, she told me that I needed to keep advocating for my child. She understood the situation and knew I wasn't crazy, and she too was convinced that the doctors were overlooking something. It felt good to have someone finally believe me, but all that I could do was hope that it would result in them finally looking into what was really going on with our son.
Finally, a doctor agreed to do an MRI and there it was. On New Year's Eve, at the age of thirteen months, we found the source of the problem – our son had a Chiari malformation and pressure was building in his brain because part of his brain had dropped out of the skull and was blocking the flow of cerebrospinal fluid. They recommended an emergent decompression surgery and surgery was scheduled for January 5th. When the day that the diagnosis came, the doctor who had thought that I was crazy the entire time, came in and apologized.
At my insistence, they did a sleep study that showed that our son suffered from central sleep apnea. The sleep study showed he never ever made it to a deep sleep before awakening. The same doctor who refused to believe that our son was anything other than a typical baby awakening often was being humbled by the results. His initial surgery was bumped, and on January 11, 2019, our baby went in for brain surgery (a posterior fossa decompression with duraplasty).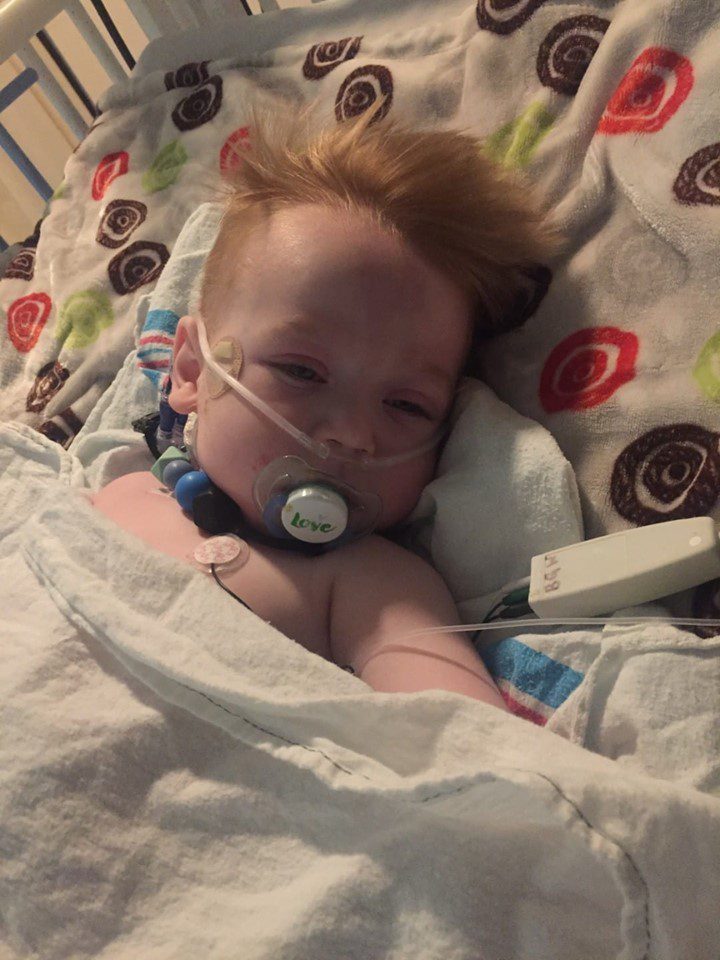 Cameron had a very hard recovery. After decompression, he seemed hyperactive and unresponsive to my presence (almost catatonic). I work at a hospital and it seemed like he was acting much like babies born with narcotic addictions. I asked if it could possibly be related to the morphine he was on and once again, I felt as though my concerns were falling on deaf ears. Finally, three days after decompression, they considered it and after switching him from morphine to Dilaudid (hydromorphone), I had my son back and he was diagnosed with an allergy to morphine causing a paradoxical reaction. He still hadn't walked after surgery and I waited by his bedside holding on to hope. Finally, on day five, he walked. By day six his swallowing was amazing, and he could be fed without vomiting! He finally could sleep through an entire night without awakening. Things were finally looking up!
Less than a week after returning from the hospital, he started acting as he had prior to surgery. I took him in, and they diagnosed him with a post-operative leak known as a pseudomeningocele. They assured me that he would be fine if I could just "get him to slow down and rest." Two days later I couldn't handle seeing him in such pain again, so I took him back. They decided to take him back into surgery to repair the leak.
This time, we knew going in that morphine was not an option. We talked with the anesthesiologist right before surgery and he ensured us that Cameron WOULD NOT be given morphine. After the leak surgery I went to the recovery room and the moment I set eyes on my baby I knew he was given morphine. I asked and they denied it, saying he was only given Tylenol. Finally, on the ward, the doctors looked and affirmed that he was indeed given morphine and they apologized.
Morphine wasn't his only allergy. We already knew that he had a dairy allergy requiring him to have a special formula and we were given an epinephrine injector due to an allergic reaction he had to pumpkin. The hospital was made aware of all his known allergies. However, during his recovery, my son started vomiting uncontrollably because they gave him the wrong formula in his feeding tube. While the nurse scurried to clean up the vomit, he was oblivious to the fact that our son was going into anaphylaxis. I took the epi-pen out of my purse and saved our child's life right there in the hospital. From that day forward our son would go into anaphylaxis over everything and anything several times a week without explanation. I pushed for additional testing and again was treated like an irrational, crazy mom. They did the tests to make me stop bugging them, and the tests came back positive for Mastocytosis.
We fought a thirteen-month fight for our son, that no family should have to fight. It wasn't just the medical problems that took the toll on us, but the incompetence and neglect from those we were trusting to help us. It was financially, emotionally and physically exhausting. Our eldest son, Dominic, who is just shy of three years older than Cameron, was passed around our family while we were in and out of the hospital begging for the medical professionals that we trusted to help us find answers. It took a toll on our relationships, with one another and with friends and family, because everyone had an opinion on everything we were doing. As a family, Cameron's dad and I underwent counseling to heal from all the emotional turmoil we had gone through. It changed us, and we had to learn to interact and trust again.
Today, Cameron is a little firecracker, full of energy and spunk. He is always on the move. Even on Cameron's hardest days it nearly slows him down. He loves his sleep. Cameron still struggles with his mast cell day-to-day and is on a few different medications to stabilize it.
For anyone out there still looking for answers, don't give up and don't give in. You can do this!