Palliative Care: An Essential for EDS & Chiari Families
When I was first diagnosed with Chiari Malformation, I believed everything that my neurosurgeon told me. I was originally diagnosed with a Chiari 1 Malformation. I was told that it was congenital and due to my mother either using drugs or not getting proper prenatal care, which was crushing to hear, but not all that unlikely since I was born in the early 1970s. Little did I know, that these assumptions weren't based on my findings, but on what textbooks have said since before the advent of the MRI in the early 1980s. Sadly, the percentage of Chiari patients that are given these same faulty assumptions remains near 100%. It didn't take much time after my decompression surgery for me to realize, that it wasn't quite as easy or cut-and-dry as it had been made out to be. When you have a connective tissue disorder, that is the root cause behind your Chiari diagnosis, the risk of postoperative complications is high, especially when pathological conditions went undiagnosed and untreated when the decompression was done. The difficulties of having a genetic mutation that can cause problems throughout your entire body, can make a patient seem like a hypochondriac, and that is exactly what most doctors think when they have a subpar understanding of Ehlers-Danlos Syndromes. When something goes wrong structurally, it can cause a cascading effect that manifests throughout the body. We go into the Chiari fight understanding that something is wrong with our brain and neck, but when it crosses over to problems with the autonomic nervous system (for instance), we don't realize that the continued compression on our brainstem is why our hearts are now beating so fast, why we are now so short of breath, or why we are having fainting spells. We find ourselves wishing for someone, or a panel of experts to help us navigate through it all. While it is still far from the panel that we really need, Palliative Care can offer help with some essentials.
What is Palliative Care?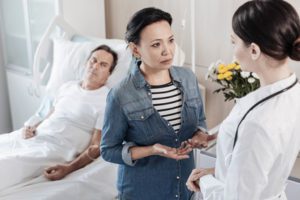 Palliative Care (pronounced "pal-lee-uh-tiv" care) is a subspecialty of medical care, where an interdisciplinary team of professionals (both medical and social) are committed to helping provide "relief from symptoms and stress" for patients with serious, life-altering illnesses, and their families. [1] Palliative Care is "supportive care," by professionals committed to you as a patient with a serious illness! Your Palliative Care Team generally consists of a Palliative Doctor, a nurse, pharmacist, social worker, nutritionist, and a chaplain [2] (all as needed). Together, they will seek to:
Benefits to Palliative Care: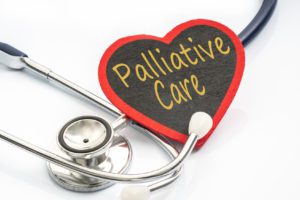 Misconceptions Surrounding Palliative Care:
Problems Surrounding Palliative Care:
---
References:
1. "What Are Palliative Care and Hospice Care?" U.S. Department of Health and Human Services, National Institute on Aging, 17 May, 2017. <https://www.nia.nih.gov/health/what-are-palliative-care-and-hospice-care>
2. "Frequently Asked Questions About Hospice and Palliative Care." American Academy of Hospice and Palliative Medicine. <http://palliativedoctors.org/faq>
3. "Handout for Patients and Families." Center to Advance Palliative Care. <https://getpalliativecare.org/handouts-for-patients-and-families/>
4. "CDC Guideline for Prescribing Opioids for Chronic Pain." Centers for Disease Control and Prevention, National Center for Injury Prevention and Control, Division of Unintentional Injury Prevention. 29 Aug, 2017 <https://www.cdc.gov/drugoverdose/prescribing/guideline.html>