When I was first diagnosed with Chiari Malformation, I believed everything that my neurosurgeon told me. I was originally diagnosed with a Chiari 1 Malformation. I was told that it was congenital and due to my mother either using drugs or not getting proper prenatal care, which was crushing to hear, but not all that unlikely since I was born in the early 1970s. Little did I know, that these assumptions weren't based on my findings, but on what textbooks have said since before the advent of the MRI in the early 1980s. Sadly, the percentage of Chiari patients that are given these same faulty assumptions remains near 100%. It didn't take much time after my decompression surgery for me to realize, that it wasn't quite as easy or cut-and-dry as it had been made out to be. When you have a connective tissue disorder, that is the root cause behind your Chiari diagnosis, the risk of postoperative complications is high, especially when pathological conditions went undiagnosed and untreated when the decompression was done. The difficulties of having a genetic mutation that can cause problems throughout your entire body, can make a patient seem like a hypochondriac, and that is exactly what most doctors think when they have a subpar understanding of Ehlers-Danlos Syndromes. When something goes wrong structurally, it can cause a cascading effect that manifests throughout the body. We go into the Chiari fight understanding that something is wrong with our brain and neck, but when it crosses over to problems with the autonomic nervous system (for instance), we don't realize that the continued compression on our brainstem is why our hearts are now beating so fast, why we are now so short of breath, or why we are having fainting spells. We find ourselves wishing for someone, or a panel of experts to help us navigate through it all. While it is still far from the panel that we really need, Palliative Care can offer help with some essentials.
What is Palliative Care?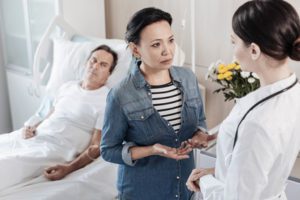 Palliative Care (pronounced "pal-lee-uh-tiv" care) is a subspecialty of medical care, where an interdisciplinary team of professionals (both medical and social) are committed to helping provide "relief from symptoms and stress" for patients with serious, life-altering illnesses, and their families. [1] Palliative Care is "supportive care," by professionals committed to you as a patient with a serious illness! Your Palliative Care Team generally consists of a Palliative Doctor, a nurse, pharmacist, social worker, nutritionist, and a chaplain [2] (all as needed). Together, they will seek to:
Ease symptoms and/or help control pain to relieve suffering
Help improve your quality of life
Help coordinate with your care team
Assist with stress, fears,

anxiety

, and/or

depression

in the patient, caregiver, and/or family
Help you create a plan for end-of-life care (directives)
Benefits to Palliative Care:
Both Chiari Malformations and

Ehlers-Danlos Syndromes

are relatively complex. Both conditions can spur a vast array of symptoms. One of the objectives of your Palliative Team is to help you find a way to alleviate symptoms and/or help you with coping mechanisms through them.
Because Palliative Care is designed for patients with "serious" medical conditions, being accepted as Palliative Care patient, means that they recognize the seriousness of our condition. For those of us that have spent years/decades with our symptoms being dismissed, this alone is no small thing.
The CDC Guideline for Prescribing Opioids, as well as many of the state laws regarding the same, have exemptions for palliative patients (along with cancer and end-of-life patients). Doctors can still decide to discontinue prescriptions, taper your prescriptions, or require an "

opioid

contract," but it will be 100% by their choice, and not due to CDC Guidelines and laws. Although, you may have to tell them that.

[4]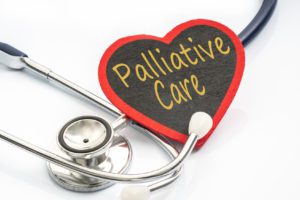 Misconceptions Surrounding Palliative Care:
While it is outlined in the U.S. Department of Heath & Human Services (NIH) under the "National Institute on Aging" (NIA), there is NO AGE CRITERIA to qualify as a Palliative Care patient.

[1]

While Palliative Care is frequently listed beside Hospice Care and/or End-of-Life Care, there is no national requirement for a patient to be in an end-of-life situation (or even an expected early demise).

[1]

Hospice care falls under palliative care, but palliative care expands beyond the scope of just hospice. Palliative care may begin at any stage of a serious illness.

[2]

You can continue treatments (even curative treatments) with your personal doctor/specialist, while receiving palliative care. There is no "incurable condition" requirement for a serious condition under palliative care.

[2][3]

In fact, a patient can qualify and receive Palliative Care whether their illness is curable,

chronic

or life-threatening.

[2]

You do not need to wait until your condition reaches a certain level of severity, you can start with Palliative Care at any stage of your illness. In fact, Palliative Care works best when it begins as early as possible in the illness, as some symptoms may be avoidable or more manageable if addressed early.
Palliative Care does not replace or override your

pain management

doctor, or any of our doctors for that matter. Instead, we give them permission to discuss our case with our medical professionals, so they can help coordinate our care, especially in regard to our pain/suffering and quality of life care.
Your Palliative Care Team will not consist of the medical specialists that we specifically need, but they can help navigate you to the type of doctor you may need and discuss these recommendations with your doctors.
Problems Surrounding Palliative Care:
Primary Care Doctors (who are supposed to be offering referrals to Palliative Care for their patients with serious medical conditions) often fail to fully understand the spectrum of Palliative Care. Because of their faulty understanding, most of us are never offered Palliative Care, and when we request it, we are often told that it is equivalent to hospice care or set aside for hospice patients, and therefore they believe that we do not qualify. THEY ARE WRONG!
Our medical professionals often fail to recognize just how "serious" of a condition and life-altering Chiari and

EDS

really are (on us as patients and on our families).
Not all insurance companies cover Palliative Care. Because some insurance companies fail to see the seriousness of our conditions, qualifying may be difficult. Private insurance and HMOs are more likely to offer Palliative Care. Different states have different policies regarding the level of Palliative Care (if any) they offer.

[2]

If cost concerns are an issue, the social worker on your Palliative Team can assist you in ways that might help you qualify. [3]
[wpedon id="4396″ align="center"]
---
References:
1. "What Are Palliative Care and Hospice Care?" U.S. Department of Health and Human Services, National Institute on Aging, 17 May, 2017. <https://www.nia.nih.gov/health/what-are-palliative-care-and-hospice-care>
2. "Frequently Asked Questions About Hospice and Palliative Care." American Academy of Hospice and Palliative Medicine. <http://palliativedoctors.org/faq>
3. "Handout for Patients and Families." Center to Advance Palliative Care. <https://getpalliativecare.org/handouts-for-patients-and-families/>
4. "CDC Guideline for Prescribing Opioids for Chronic Pain." Centers for Disease Control and Prevention, National Center for Injury Prevention and Control, Division of Unintentional Injury Prevention. 29 Aug, 2017 <https://www.cdc.gov/drugoverdose/prescribing/guideline.html>