Overview: Complications Associated With A Chiari Decompression
From Intracranial Hypertension (formerly known as Pseudotumor Cerebri), Hydrocephalus, Tethered Cord Syndrome, to conditions related to the presence of a connective tissue disorder, such as Ehler's-Danlos Syndrome, the primary reason for post-decompression complications seen in the Chiari Patient Community continues to be largely related to undiagnosed and untreated comorbid conditions. Time and time again, we see decompression failure, or a recurrence of symptoms after decompression, because there are other underlying conditions that need to be addressed. For this reason, we strongly recommend that patients get evaluated for the possibility of these known comorbid conditions before undergoing decompression surgery, unless circumstances require emergency surgery. (More information about the testing we recommend can be found in "The Treatments" article). Potential complications of decompression surgery may vary, depending upon the specific technique used, such as whether a duraplasty is performed, and how much bone is removed during a suboccipital craniectomy. The most common complications are infection, CSF leak, and Pseudomeningocele in adult patients.

INFECTIONS
Surgical site infections:
A surgical site infection is a risk of any surgery. While hospitals and surgical staff strive to maintain a sterile environment, hospitals are known for harboring pathogens, including many that are antibiotic resistant. Patient factors, including diabetes, age, being overweight, and being a smoker can also increase a patient's risk of developing a post-operative infection.[1] Antibiotics are typically given post-surgically (and sometimes before surgery) in order to reduce the risk of infection. Some infections require wound revision surgery, to remove pus and infected tissue in order to improve healing.
Meningitis is an additional surgical risk when the dura is opened during a decompression. It is characterized by inflammation of the meninges, the linings of the brain. There are three main types of meningitis: aseptic, bacterial and chemical.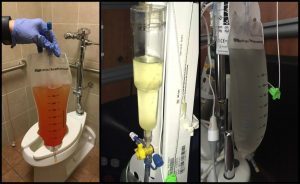 ♦ Aseptic Meningitis is by far the most common type, and is generally less severe than the bacterial type. Most cases of aseptic meningitis are caused by viruses, but may rarely be fungal, autoimmune, parasitic or drug-induced.[2] The treatment for aseptic meningitis is usually supportive care.[3] Chemical meningitis is also a risk any time surgery or other procedures or treatments are performed on the brain or spine.[4]
♦ Bacterial Meningitis is much more serious and can be life threatening. Three types of bacteria cause most cases: streptococcus pneumoniae, Group B streptococcus, and Neisseria meningitidis. Typical treatment includes antibiotics and supportive care.

CSF LEAKS
Duraplasty leak:
Post-decompression CSF leaks are a risk of decompression surgery whenever the dura is opened. The risk of a CSF leak dramatically increases with the presence of untreated hydrocephalus[5], intracranial hypertension (IH)[6], and connective tissue disorders, such as Ehlers-Danlos Syndrome. Nationwide statistics indicate that the risk of a CSF leak post-duraplasty is 10-15%. However, some surgeons report a significantly lower incidence of CSF leaks in their patients.[7] The use of biologic glue to seal the dural suture line has greatly reduced the incidence of post-duraplasty CSF leaks. A common sign of a leak is clear fluid leaking from the incision site.
Pseudomeningocele:
A pseudomeningocele is a type of CSF leak, where the leak creates a pocket in the muscles in the back of the neck. It is one of the most common complications of duraplasty. While some surgeons have managed to keep the incidence of pseudomeningocele low in their patients, some report an incidence as high as 18%.[8] A study at Vanderbilt University at 2013 showed that the development of a pseudomeningocele after decompression significantly reduced the benefit of decompression at one-year post-op on pain, disability and quality of life.[9] A smaller pseudomeningocele may re-absorb on its own. However, with large and persistent PM's, the duraplasty may adhere to the cerebellar tonsils, blocking flow and making a revision surgery more difficult. There is much debate among neurosurgeons as to whether doing routine duraplasty as part of decompression outweighs the risks. Some argue that duraplasty increases the risk of complications, while others say that failure to perform duraplasty often results in inadequate decompression, reduced benefit, and the need for additional surgeries. Some experts argue that duraplasty using the patient's own pericranial tissue and using water-tight sutures and biologic glue minimizes the risk of a leak and makes routine duraplasty the best option for most patients. A squishy pocket of fluid is often seen near the base of the skull and a PM can be confirmed and monitored with an MRI. In some cases, a surgeon may try draining the pocket of fluid with a needle and syringe.

BLEEDING AND ANESTHESIA-RELATED COMPLICATIONS
Excessive Blood Loss:
Excessive blood loss is a risk of any major surgery, but can be minimized by a careful surgical technique. Patients with connective tissue disorders may have an increased risk of bleeding complications, due to fragile blood vessels, particularly with vascular EDS or vascular crossover symptoms. Cessation of blood-thinning medications, such as warfarin, aspirin and NSAIDS also reduces the risk of bleeding.
Anesthesia Risks:
While risks of general anesthesia are quite low, the risk may be higher if you or someone related to you has had previous adverse interaction to general anesthesia. Some EDS patients are also prone to anesthesia issues, such as requiring more anesthesia or ineffectiveness of local anesthetics. Therefore, it is important to inform your anesthesiologist of your pertinent medical history.[10]

BONY REGROWTH
Regrowth of the bone removed during decompression is a risk associated with the pediatric patient population, particularly patients under the age of 2. Surgeons have reported as much as a 50% incidence of bony regrowth in patients under the age of 5, and as much as 80% in patients under age 2. Regrowth of bone may result in the need for future surgery.[5]
While Craniocervical Instability is not uncommon among those with connective tissue disorders, it is pretty rare in the general population. However, aggressive bone removal during decompression surgery can create an unstable craniocervical junction. It is important to discuss with your surgeon how much bone they plan to remove, and the risks and benefits of laminectomy, particularly if you also have a connective tissue disorder, which increases your risk for developing instability.

CEREBELLAR SLUMPING (PTOSIS)
Cerebellar slumping (aka cerebellar ptosis) occurs as a result of too much bone being removed around the foramen magnum that there is no longer enough bone to support the weight of the cerebellum. The brain slumps downward toward the spine, re-herniating the cerebellar tonsils, and often compressing the cerebellum itself against the back of the skull and brain stem. This can often result in worse symptoms than the patient had before decompression. Surgical techniques have been developed to revise the decompression and provide more support to the cerebellum.[11]
Occipital neuralgia is nerve pain, often accompanied by numbness and/or tingling, of the occipital nerve in the back of the head. It can be caused by compression of or damage to the occipital nerve. While the presence of a Chiari malformation itself can cause compression of the cranial nerves, including the occipital nerve, decompression surgery can also cause occipital neuralgia. This can be due to compression of the nerve from the use of retractors to hold apart musculature during surgery, or the build-up of scar tissue around the nerve. More conservative treatment of occipital neuralgia may include medications, such as lidocaine patches and medication that target nerve pain, physical therapy, cutaneous nerve stimulators, and nerve root blocks. Severe and persisting occipital neuralgia may require surgical decompression of the nerve or occipital neurectomy, surgical removal of the occipital nerve.[12]

SCAR TISSUE AND ADHESIONS
Like with occipital neuralgia and pseudomeningocele, the development of scar tissue and adhesions can cause symptoms to return or failure to relieve symptoms after a decompression surgery. Adhesions and scar tissue can develop wherever tissue is cut, including the dural graft, cauterized tonsils and the skin incision. Scar tissue and adhesion can inhibit or block CSF flow and often require revision surgery to remove the scar tissue. A careful selection of the graft material used for a duraplasty may reduce the risk of developing adhesions and scar tissue.[13]

DECOMPRESSION FAILURE
While perhaps technically not a complication, the failure rate of decompression surgery to alleviate symptoms deserves a mention here. While proper complications can often result in the failure of a decompression to relieve symptoms, or in fact, may make them worse than before decompression, even complication-free decompressions surgeries have a high rate of failure, as much as 40%, depending upon the study. Some reasons for decompression failure in the absence of the above-listed complications include failure to diagnose and treat comorbid conditions that may be causing symptoms, an inadequate decompression (failure to create enough space by removing bone and performing a duraplasty), and some or all of the symptoms being due to another cause, such as migraines. In cases of an inadequate decompression, a more aggressive decompression revision surgery may provide relief. In cases where a comorbid condition exists, that condition must be diagnosed and treated. However, there are still a small percentage of patients who do not get relief, even with further decompression and other treatments. The reason for this is not clearly understood.[5]

[wpedon id="4396″ align="center"]
---
References:
1 Torpy, Janet M. "Postoperative Infections." JAMA, American Medical Association, 23 June 2010, <www.jamanetwork.com/journals/jama/fullarticle/186132>.
2 Ramachandran, Tarakad S. "Aseptic Meningitis Treatment & Management." Aseptic Meningitis Treatment & Management: Approach Considerations, Medical Care, Prevention, 22 Aug. 2017, <www.emedicine.medscape.com/article/1169489-treatment>.
3 "Meningitis." Meningitis | Brain & Spine Foundation, <www.brainandspine.org.uk/meningitis>.
4 McDaniels, Edison. "Chiari Decompression Surgery." Neurosurgery101-TheBlog, 3 Apr. 2013, <www.surgeonwriter.com/chiari-4/>.
5 Trumble, Eric. "Chiari Overview & Surgical Issues." Chiari and Syringomyelia Foundation, Chiari and Syringomyelia Foundation, 13 Oct. 2015, <www.csfinfo.org/videos/physician-lecture-videos/csf-lectures-archive/chiari-overview-surgical-issues/>.
6 "Chiari Surgery." Chiari Surgery | Mayfield Chiari Center, 10 Dec. 2017, <www.mayfieldchiaricenter.com/chiari_surgery.php>.
8 "Pseudomeningocele Following Chiari Surgery Decreases Quality of Life." CHIARI MEDICINE, 17 May 2015, <www.chiarimedicine.com/blog/2015/5/17/pseudomenigocele-following-chiari-surgery-decreases-quality-of-life>.
9 Parker, S. L., et al. "Effect of Symptomatic Pseudomeningocele on Improvement in Pain, Disability, and Quality of Life Following Suboccipital Decompression for Adult Chiari Malformation Type I." Journal of Neurosurgery., U.S. National Library of Medicine, Nov. 2013, <www.ncbi.nlm.nih.gov/pubmed/24010974>.
10 "The Risks of Anesthesia and How to Prevent Them." WebMD, WebMD, 2016, <www.webmd.com/a-to-z-guides/anesthesia-risks-what-patients-should-know>.
11 "Surgical Technique Alleviates Cerebellar Slumping." Cerebellar Slumping, 31 May 2007, <www.conquerchiari.org/articles/surgery/techniques/cerebellar-slumping.html>.
12 Mueller, Diane. "Occipital Neuralgia and Chiari Malformation." CHIARI MEDICINE, 4 Apr. 2013, <www.chiarimedicine.com/blog/2013/4/4/occipital-neuralgia-and-chiari-malformation>.
13 Attenello, Frank J., et al. Suboccipital Decompression for Chiari I Malformation: Outcome Comparison of Duraplasty with Expanded Polytetrafluoroethylene Dural Substitute versus Pericranial Autograft. 4 Sept. 2008, <www.link.springer.com/article/10.1007/s00381-008-0700-y>.