The Chiari Malformation Ehlers-Danlos Connection
CHIARI (KEE-AR-EE) MALFORMATIONS ARE FAR FROM RARE, THEY ARE JUST RARELY UNDERSTOOD, EVEN BY MOST MEDICAL PROFESSIONALS. A CHIARI MALFORMATION EXISTS WHEN THE LOWEST PART OF THE HIND BRAIN (THE CEREBELLAR TONSILS) PROLAPSES INTO THE HOLE AT THE BOTTOM OF THE SKULL (FORAMEN MAGNUM), ENTERS THE SPINAL CANAL AND OBSTRUCTS THE FLOW OF CEREBROSPINAL FLUID (CSF), PUTS PRESSURE ON THE BRAIN STEM AND SPINE, AND MAY RESULT IN VARYING DEGREES OF NERVE COMPRESSION.
PREVALENCE OF CHIARI: Once thought to occur in 1 in 1000 people, it is now believed to be much more frequent of an occurrence. A 2016 pediatric study found it to occur in 1 in 100 children[1]. Since Chiari Malformation Type 1, the most common type, tends to become symptomatic during late teens and early adulthood, it is likely to be much more common when adults are factored in.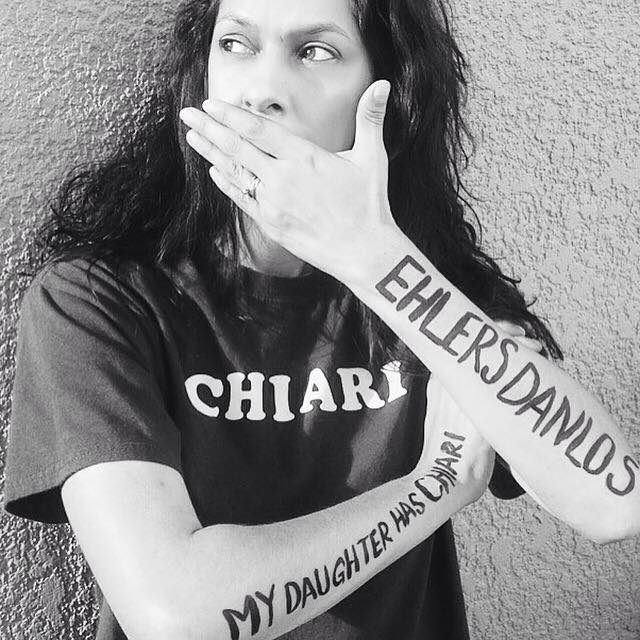 THE CONNECTION: Chiari malformations were originally believed to be caused by a posterior fossa hypoplasia (small area inside the back of the skull) and doctors speculated that lack of maternal prenatal care or drug abuse caused the deformity. However, as studies continue, they are finding that many with this hind brain herniation have connective tissue disorders, such as Ehlers-Danlos Syndromes. Ehlers-Danlos Syndromes involve a mutation in one of the collagen genes. Collagen is a protein that is often described as a "cellular glue" that helps hold the body together. When that glue fails to hold, everything seems to go awry; specifically, as related to Acquired Chiari Malformations: organs tend to prolapse, and bones begin to shift as joint laxity increases (including the bones/vertebrae at the craniocervical junction). They are finding that these acquired Chiari malformations are far more common than originally thought. There are many pathological co-factors that can cause or attribute to the formation of a Chiari Malformation, and most can be linked to these Heritable Disorders of Connective Tissues (HDCTs), including a posterior fossa hypoplasia. In one large study, they found those with a Chiari malformation and no associated co-factors, with only slightly over 52% having a small Posterior Cranial Fossa (PCF). When other co-factors were present, the number of Chiarians found with a small PCF plummeted and therefore it is should be considered acquired until proven otherwise.[2]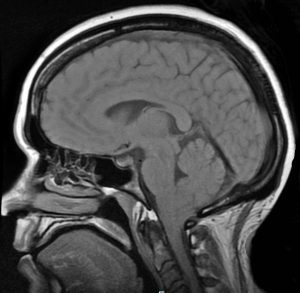 DIAGNOSES: A decade ago, it took 10-20 years from the onset of symptoms to be diagnosed and now it takes an average of 1-2 years, because medical professionals are slowly beginning to look for it. Magnetic Resonance Imaging (MRI) remains the best tool for diagnosis. Some medical professionals believe that a tonsillar herniation of less than 5mm is simply a tonsillar ectopia and only diagnose a Chiari malformation when the descent is > 5mm. However, the 5mm requirement is controversial and many doctors now base their diagnoses not solely on measurements, but rather on symptomology and a combination of other factors (including Cine MRI, a patient's symptoms, and other relevant factors). Due to the prevalence of connective tissue issues, gravity often proves to be a significant factor and should be taken into account by use of an upright MRI whenever possible.[3] EDS should be diagnosed by a geneticist before surgery is considered.
TREATMENT OPTIONS: There is no cure for a Chiari malformation, but there are treatment options. When symptoms are minimal and not life-altering, pain management is usually offered. However, it is important to know that while medications may ease some symptoms, Chiari symptoms tend to be progressive. Decompression surgery is the only treatment available to attempt to halt the progression of the damage being done to your Central Nervous System (CNS). The most common reason that decompression surgeries fail, is undiagnosed co-morbid conditions, especially those that can be etiological/pathological co-factors. More than one surgery might be necessary to successfully treat a Chiari malformation and any/all co-morbid conditions and there is a correlation between early surgical intervention and positive surgical outcomes[4].
---
References:
1 Eltorai, Ibrahim M. "Rare Diseases and Syndromes of the Spinal Cord" Cham: Springer International Publishing: Imprint: Springer, 2016. Page 43, 15.2, <www.springer.com/us/book/9783319451466>.
2 Milhorat, Thomas H., et al. "Mechanisms of Cerebellar Tonsil Herniation in Patients with Chiari Malformations as Guide to Clinical Management." Acta Neurochirurgica, Springer Vienna, July 2010, <www.ncbi.nlm.nih.gov/pmc/articles/PMC2887504>.
3 Henderson, Fraser C., et al. "Neurological and Spinal Manifestations of the Ehlers–Danlos Syndromes." American Journal of Medical Genetics Part C: Seminars in Medical Genetics, 21 Feb. 2017, <www.onlinelibrary.wiley.com/doi/10.1002/ajmg.c.31549/full>.
4 Siasios, John, et al. "Surgical Management of Patients with Chiari I Malformation" International Journal of Pediatrics, Article ID 640127, Hindawi, 2012, <https://www.hindawi.com/journals/ijpedi/2012/640127>.